I just left a board meeting where two fellow board members, who are successful business owners, were sharing their plans for major expansions in the upcoming year.  Listening to their excitement about the possibilities was electric!  The only thing more exciting than being around people who are excited about their ideas is being excited about your own ideas.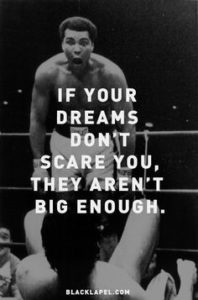 As you roll into the new year, are you thinking about what you might want to achieve?  Do your ideas electrify you?  If you are not excited about the possibilities for the upcoming year, maybe you aren't thinking big enough.  Why not dream big?  Give yourself something to be excited about.
Think about what you want to achieve personally and professionally this year.  Let your imagination run wild and forget about any obstacles that you perceive to be in your way.  That's what most obstacles are anyway – perceptions.
Start with a blank sheet of paper and write down anything and everything that comes to mind.  Keep writing until you feel excited and then write some more.  Once you have exhausted your list of ideas, choose a few to that be intentional and purposeful about achieving.
Do you feel excited?  Maybe a little scared?  Good.  You're doing it right.
Use the Focused Action for BIG Results planner for step by step instructions on putting your plan into action.
Are you excited about your ideas?