Communicate Like a Boss (without being BOSSY!) – A Master Class: 3 Sessions
October 27, 2020 @ 10:00 am

-

November 10, 2020 @ 11:30 am

$249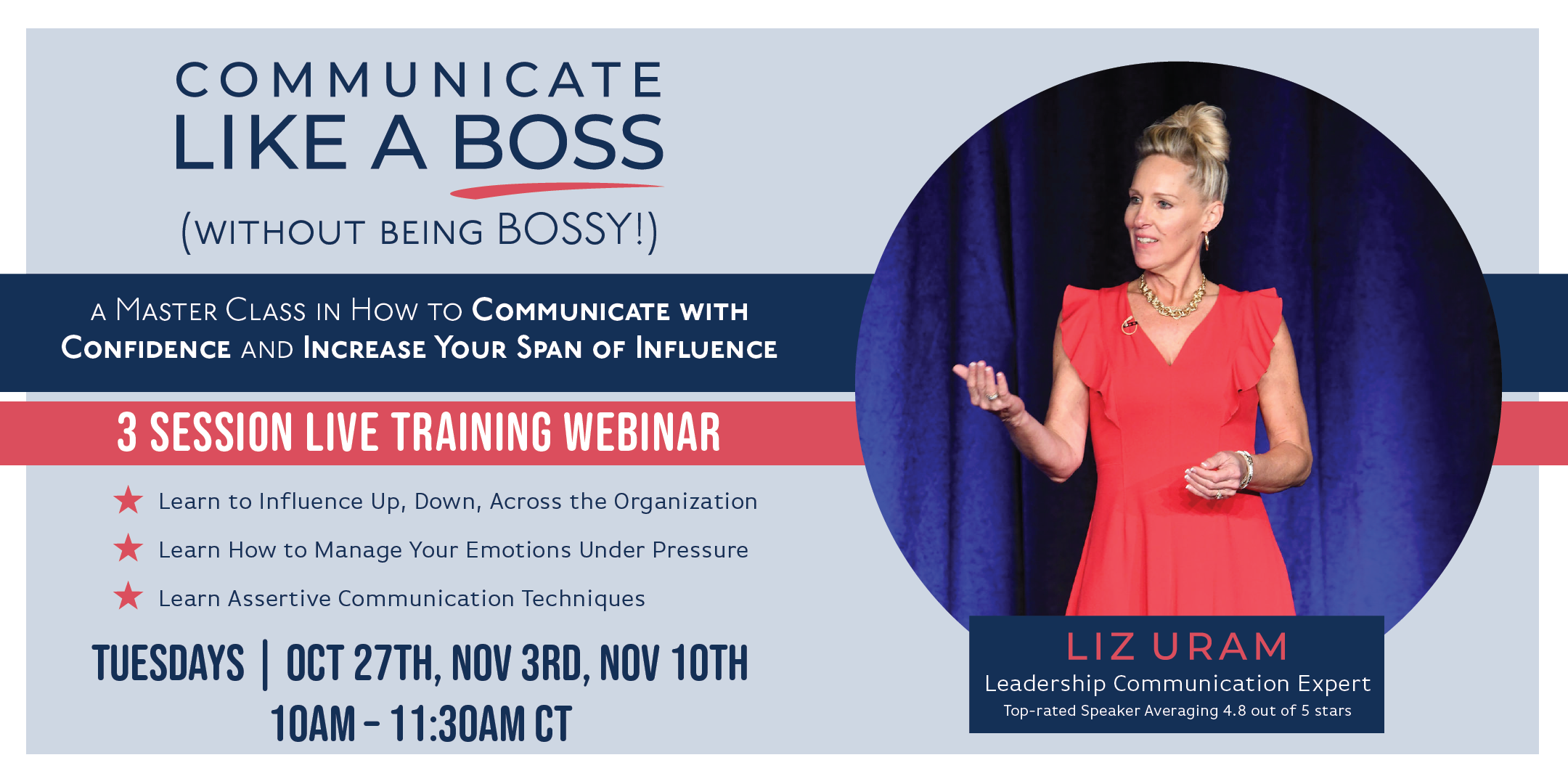 A Master Class in How to Communicate with Confidence and Increase Your Span of Influence
Course Details
Excellent interpersonal communication skills are the most important career-building skills you can develop. Especially if you are interested in career advancement and becoming a person of influence. Effective communicators are able to get better results, make a bigger impact, and motivate others to want to do their best.
This 3-session master class is designed to equip you with the tools you need to communicate with confidence in every situation and increase your span of influence so you can get promoted; get a bigger pay increase; and a better performance review.
Session 1
Tuesday, October 27, 2020 10:00am -11:30am CT
Influence Up, Down, Across the Organization
Whether you're in a formal leadership position or not, you have the opportunity to influence others up, down, and across the organization in your daily interactions. Developing powerful persuasion skills will increase your visibility so you can advance to your next level.
In this session, you will learn:
How to recommend solutions to problems to elevate your value in measurable ways
How to adapt your message to match the needs, wants, and personalities of your audience.
Persuasive language that gets other people on board with your way of thinking matter what life is throwing at you
Manage Your Emotions Under Pressure
Session 2
Tuesday, November 3, 2020 10:00am – 11:30am CT
Emotional intelligence (EQ) is the primary indicator of your capacity to succeed and advance in the workplace. EQ is the ability to maintain control of your emotions in the midst of adversity. Do you fly off the handle when things don't go your way? Do you break down in tears at the slightest provocation? While you can't control the way situations make you feel, you can control what you do with your feelings. Learning to manage your emotions in the middle of the storm will make you the kind of person others look up to and will increase your chances of success.
In this session, you will learn:
The 4 components of emotional intelligence
How to identify your stress triggers and how to keep stress from ruining your day
Strategies for staying calm no
Session 3
Tuesday, November 10, 2020 10:00am- 11:30am CT
Assertive Communication Techniques
Assertive communicators are calm, cool, and confident in all situations. Understanding the difference between passive, assertive, and aggressive communication is the key to becoming a better communicator. You'll receive the recognition and respect you deserve when you learn how to communicate in an assertive manner.
In this session, you will learn:
5 no-fail responses to eliminate conflict when people try to manipulate and push back at you.
A 4-step process for tackling difficult conversations with ease.
How to appear confident even under pressure.
Communicate Like a Boss (without being BOSSY!) – A Master Class: 3 Sessions