Do you choose a word of the year? The best leaders are continuously working to improve themselves and this is one way to do that.
The purpose of choosing a word for the year is to think about an area of your life you want to focus on developing. You can think of it as a guidepost or a personal core value if you'd like. My words tend to be focused on spiritual development because I heard that when you take care of yourself spiritually everything else falls into place. I believe that to be true. In fact, my word for 2020 proved it.
My 2020 word of the year was 'seek.' I choose that word because I wanted to take my spiritual development to a new level. What that led to was calm, peace, and gratitude in a year that I could have chalked up as terrible. The good is there if we look for it.
I remember when I first began to realize the impact the pandemic was going to have on my business. It was mid-March and I had just returned from what turned out to be my last business trip, although I didn't know it at the time. Even as my speaking and training programs were cancelled or postponed one after another, I remember feeling an overwhelming sense of peace. I couldn't explain it but I just felt that everything was going to be okay.
Guess what? Everything has been okay. That doesn't mean it was all rainbows and ponies. It wasn't. My revenue dropped 50% last year. My husband had a serious bout with Covid but thankfully he fully recovered. My daughter had a health scare.
I have so many things to be grateful for. The best blessing I received was the gift of time because my work is all virtual now so I'm not on the road. I was able to take care of my husband when he was sick. I was able to be with my daughter during her health scare.
I got to spend quality time with my 76-year-old mom who lives with me. We tried new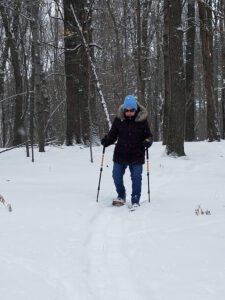 things like kayaking, disc golf, and recently snowshoeing.
We spent a ton of time in the garden planting flowers and creating a bird sanctuary. We had many campfires and ate a lot of s'mores. My husband and I cleared paths through our woods that had become neglected and overgrown over the years because there was never time to tend to them. I learned to use a chainsaw and channeled my inner lumberjack. The list goes on.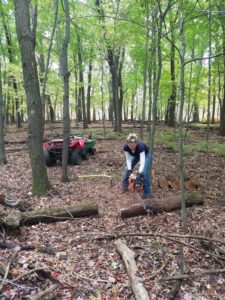 I chose to seek out what was good instead of focusing on what wasn't and as a result I had peace in the midst of uncertainty. Where did this peace come from? Not from me. Not from the government. It came from intentionally seeking the word of God which tells me over 300 times 'do not fear.'
2021 Word of the Year
My word for 2021 is 'diligent.' It means to put in a constant effort to accomplish something; to do something with persevering attention. I don't know about you, but it's easy for me to get complacent. It's more natural for me to fall into negative thinking patterns than it is to stay positive and it's easy to get lazy if I have too much time on my hands. Can you relate?
Keeping this word at the forefront will help me in a couple of different ways:
1) Who knows what this year will look like and I want to diligently guard my thoughts against negativity and fear.
2) I want to do produce my best work whether it's for a client or a personal project I'm working on.
I'll report in a year from now and let you know how it turned out. I encourage you to think of your own word that will be your guiding light over the next year. And I've love to hear about it. Shoot me an email at liz@coachandmentor.net and let me know what you're thinking.
Check out my planner, Focused Action for BIG Results, for 9 strategies to organize and manage your time.
Word of the Year for 2021