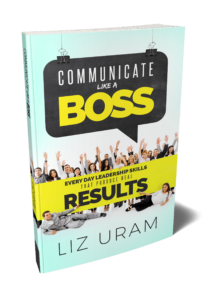 Communicate Like a Boss: Every Day Leadership Skills That Produce Real Results
To do something 'like a boss' means to do something well. Smart managers know that communication is the most important part of their job. The best way for a manager to connect with their team is through clear communication. The number one thing workers want from their managers is better communication. A manager who communicates with confidence will quickly earn the trust of others and will gain a reputation as a good leader. Effective communication is as difficult as it is important, and many managers make it harder than it needs to be. Smart managers who follow fundamental principles of communication have less stress, better results, and more productive teams.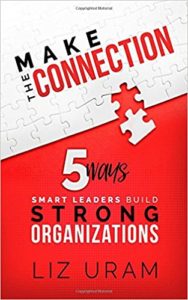 Make the Connection: 5 Ways Smart Leaders Build Strong Organizations
Strong organizations share a common connection from top to bottom. The connection begins with a primary purpose. Smart leaders know that people everywhere have a human instinct to want to know the why behind the what. When people understand the why they will want to do the what. Smart leaders share the primary purpose of the organization so everyone is working toward a common goal. Smart leaders know it's their job to establish the purpose and inspire others to follow their lead. They understand different leadership styles and know which decisions are up to them and when to involve the team.
What these people are missing is a simple plan that is easy to stick to…  Focused Action for BIG Results walks you through 9 practical tools so you can get focused and get the results you want!
The P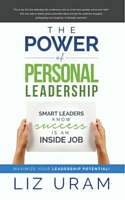 ower of Personal Leadership: Smart Leaders Know Success is an Inside Job
All leadership starts with self-leadership. What we say, what we do, and what we believe about ourselves and others has a direct impact on our leadership potential and of those around us. Discover the 5 principles of personal leadership and learn: • How to develop self-awareness and why it matters • How attitude can hold you back or propel you forward • Methods for figuring out your best work/life balance and overcome obstacles that get in the way • The impacts of stress and how to develop resilience • How to improve communication and challenges assumptions about other people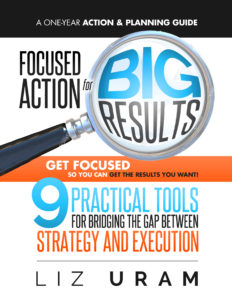 Focused Action for BIG Results – a one year planning and action guide
Focused Action for BIG Results helps with one of the most common issues faced by today's busy professional… the mystery of the disappearing day.  Every day the most well-intentioned people wake up ready to tackle their to-do lists but at the end of the day they don't actually see the results they were hoping for and another day disappears.  What's more frustrating is that they felt busy all day long yet they don't have any results to show for it.  They soon realize that busy does not equal productive but they don't know what to do about it.
Catch Them in the Act! Positive Performance Tracker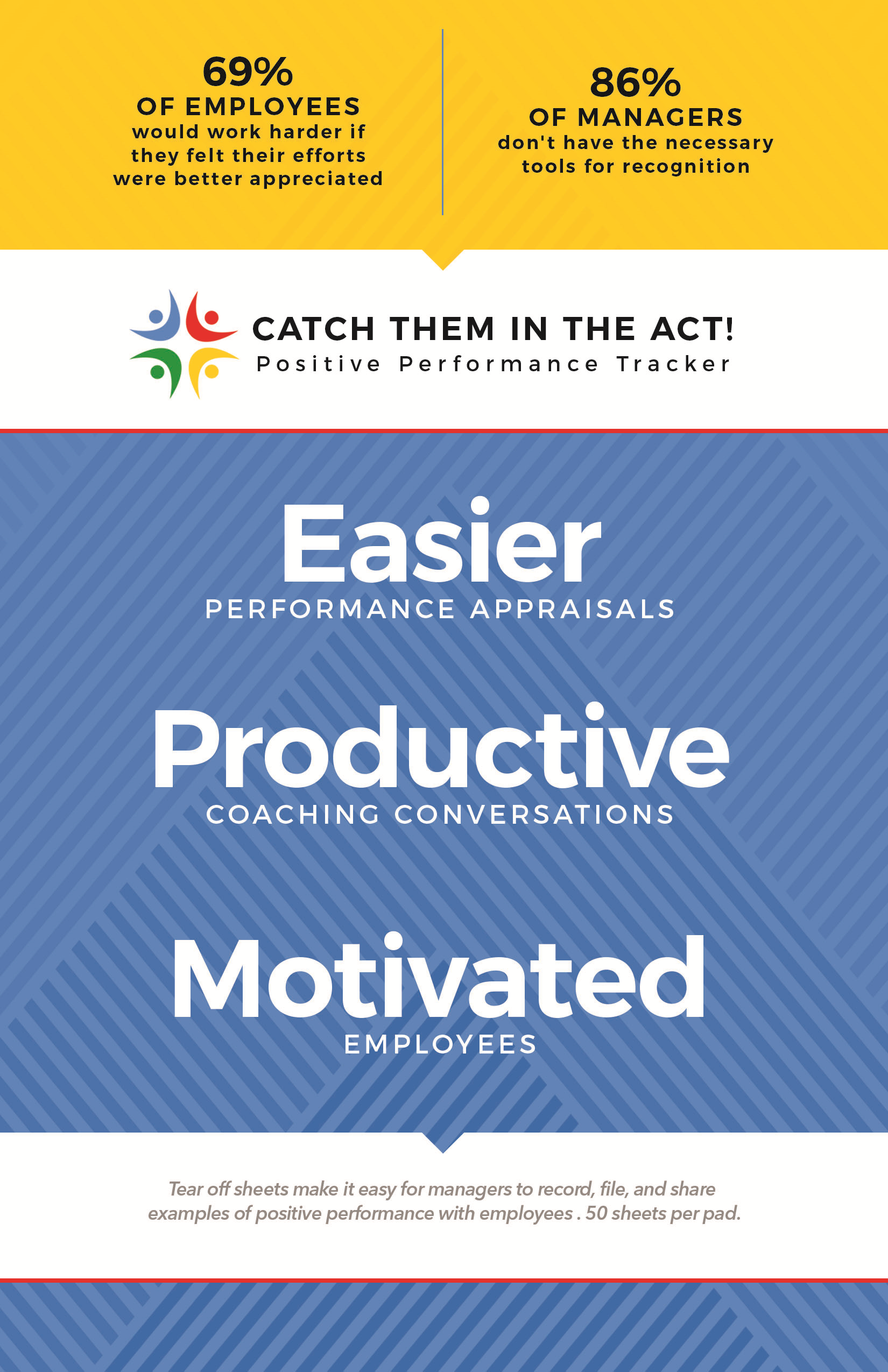 Studies show that the number one motivator for employees is appreciation. There's nothing more discouraging to an employee when they don't get positive feedback on a regular basis. Managers don't withhold recognition on purpose, but in the busyness of the day it's easy to forget to show appreciation. Keep these notepads on hand to jot down what you see your employees doing right, what impact it has on the company, and how you recognized them. Put them in the employee's file for easy reference later.
Use for easier performance reviews, more productive coaching sessions, and increased employee motivation. Sold individually or in sets of 5 notepads. 50 sheets/pad. 5.5″x7.5″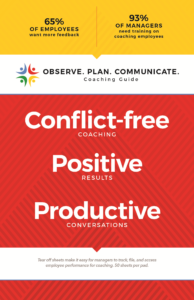 Observe | Plan | Communicate – Coaching Guide
Never go into another coaching conversation unprepared. Take time to observe the performance and behavior for yourself, plan the conversation, then communicate what's actually happening compared to what should be happening. Most employees are open to feedback, as long as it's done right. Coaching conversations should happen on a regular basis to avoid any surprises at the year end review. Don't forget to coach for positive performance too!
Use for conflict-free coaching, positive results, and productive conversations. Sold individually or in sets of 5 notepads. 50 sheets/pad. 5.5″x7.5″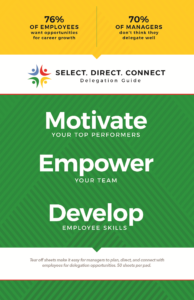 Select | Direct | Connect – Delegation Guide
Delegation is one of the best ways to develop your team (and free up your time), but it requires a certain finesse to do it right. A botched delegation attempt can make the difference between a frustrated employee who doesn't do what you want them to do and a motivated employee who does an excellent job and wants to do more of it. Use this guide to make sure you're delegating and developing individuals the right way.
Use to motivate, empower, and develop employees. Keep a separate notepad for each employee in their file for easy reference. Sold individually or in sets of 5 notepads. 50 sheets/pad. 5.5″x7.5″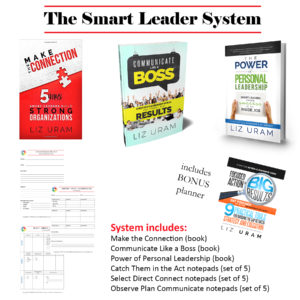 The Smart Leader System – GET IT ALL!!
All the leadership tools you need to get better results through clear communication in an easy-to-use, step-by-step system. The books provide the instruction and the notepads are the leadership tools you'll use on a daily basis to make sure your team knows what's expected of them, to ensure you're providing recognition on a regular basis, and you're giving direction in a way that makes them want to do what you want them to do.
Use the handy notepads to track performance, prepare for coaching conversations, and develop your team. Simply jot down your notes and put it in the employee's file. Performance reviews have never been easier! Never be at a loss when giving specific feedback again.
Notepads of 50 sheets come in a set of 5. Designate one notepad for each employee and you're set for a year of recognition, coaching, and development. Additional notepads sold separately. Click the link to go to the Store.