Thought-provoking, actionable content delivered by an engaging keynote speaker backed by proven on-the-job results.
These popular presentations can be delivered as a keynote, workshop, or training session.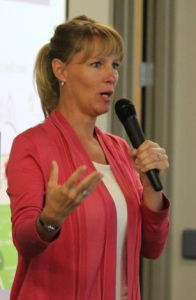 How to Get More Done in One Hour Than Most People Do All Day
This keynote addresses one of the most common issues faced by today's busy professional… the mystery of the disappearing day.  Every day you wake up with great intentions for tackling your to-do list but at the end of the day you don't actually see the results you were hoping for and another day disappears.  What's more frustrating is that you felt busy all day long.  You soon realize that busy does not equal productive but you don't know what to do about it.
The presentation provides specific take-aways as you discover the myth of multi-tasking, the power of focus, and the hidden ways we unintentionally lose hours of each day.  You'll walk away feeling in control of your day.
At the end of this presentation participants will feel fully prepared to take focused action as they learn how to:  get the most out of each day with time left over; differentiate between low-value and high-value activities; and develop habits for success that bring BIG results.
Audiences:  Sales, Leadership, Women
---
SUCCESS! It's an Inside Job
This presentation addresses common barriers that limit the potential of high achieving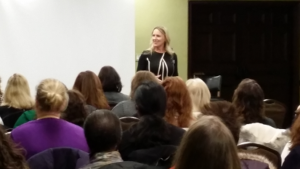 professionals. What we say, what we do, and what we believe about ourselves and others has a direct impact on our professional growth. Without even realizing it we can create our own barriers that stop us from achieving the success we desire and leave us wondering why we aren't progressing.  Every step on the ladder of success requires improved personal leadership skills.  Failure to develop those skills can leave us feeling stuck or worse, sliding backwards.
In this thought-provoking and interactive presentation, Liz uncovers the most common ways leaders limit themselves and identifies strategies for breaking through the barriers that limit their potential.
Audiences: Sales, Leadership, Women
---
Making the Connection: Bridging the Gap Between Strategy and Execution
Leaders discover the 3 critical components of developing top performing teams that set the standards for excellence and make going above and beyond a way of life instead of a once in a while occurrence.  Many companies have one or two of these critical elements in place, but only a few are connecting all three.  This presentation demonstrates, in a surprisingly simple and common sense manner, the relationship of each element and how to connect them to create a solid, high performing team that is fully charged and excited about their work and the results they are achieving.
Key learning points:  Develop a clear mission with goals that align from top to bottom to define the culture and ensure the team is built with the right people in the right seats.  Create a culture of accountability by gaining acceptance and encourage individual effort toward reaching organizational goals.  Set performance expectations, deliver feedback, and recognize efforts through ongoing 2-way communication
Audience: Leadership
---
Liz Uram is proud to have worked with the following organizations:
Allina
Project Management Institute CMASS
Project Management Institute MN
Associations North Fall Leadership Conference
HR Florida Conference & Expo
MN-AEYC/MN-SACA Summer Leadership Institute
Institute of Management Accountants Northern Lights
American Family Insurance
AdvisorNet Financial
CFA Society of Minnesota
Midwest Family Mutual Insurance
Community Dental Care
YMCA
Family Pathways
Twin Cities Human Resources Association
Salon & Spa Professional Association
Minnesota Association for Marriage and Family Therapy
American Massage Therapy Association
The Refine Conference
Women In Networking
I94 West Chamber of Commerce
Executive Women International
International Coach Federation
National Association of Professional Organizers
eWomen Network