Liz Uram is an engaging leadership keynote speaker who provides thought-provoking, actionable content backed by proven on-the-job results.
Communicate Like a Boss (without being Bossy!) 
Do difficult people ruin your day? Are you tired of people walking all over you? Are you ready to stand up for yourself but are afraid of looking like a jerk? It's time to learn how to communicate like a boss!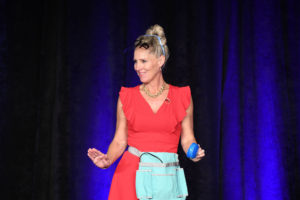 Excellent communication isn't about being bossy, it's about getting your point across assertively. It's about building relationships, being influential, and making a positive impact on other people. Let's face it, communication is complex and it can be hard but it's a skill worth developing. Building good communication skills will increase your value, make interactions with other people easier, and make you a more effective leader.
In this presentation, you will discover:
What message you're sending when you aren't saying a word
How to be seen by others as confident, not a doormat or bossy
Shift your perspective on how to deal with difficult people
Assertively set boundaries with other people
Liz engages her audiences through the use of props, humor, and relatable experiences. Her stories and examples drive home the lessons and make them stick. Audiences leave not only feeling entertained, but with memorable take-away's that make a lasting impact.
Audiences: all
---
The Power of Personal Leadership: 7 Keys to Go From Ordinary To Extraordinary
Do you ever wonder why some people are SUCCESSFUL while other's stall out and never reach their POTENTIAL? Success is an Inside Job!
What you say, what you do, and what you believe about yourself and others has a direct impact on your professional growth. Without even realizing it you can create your own glass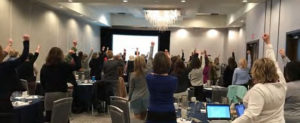 ceilings that stop you from achieving the success you're capable of and leave you wondering why you aren't progressing.
Supported by inspiring stories of ordinary people who achieved extraordinary success, the presentation outlines 7 principles of success and how anyone can apply them.  This presentation will inspire audiences to be their best.
Audiences: Sales, Leadership, Women
---
The Leaders Edge: 3 Skills Tomorrow's Leaders Need Today to Avoid Chaos, Complacency, and Lost Talent
Fact: 60% of First Time Managers… FAIL; Fact: 50% of employees don't know what's expected of them; Fact: 75% of Employees leave their Jobs because of the Manager

New technology, changing regulations, and demand for talent are requiring leaders to develop new skills to avoid chaos, complacency, and lost talent. These are old problems in need of new solutions. To gain an edge and stay ahead of the competition, tomorrow's leaders need foresight, they need to encourage innovate thinking, and they need to keep top performers. Doing the same old thing won't work. The leader of the future needs to tackle these tough problems in a new way.
To gain an edge, tomorrow's leaders need foresight, they need to encourage skill development, and they need to keep top talent – Pre-active Leadership, Transformational Leadership, and Magnetic Leadership.  Individually these skills are strong, but put them together and they become a unique and extraordinary talent stack that will set your organization up for success into 2020 and beyond.
Audience members will walk away from this presentation with specific action items that they can use to:
Identify and put a stop to recurring issues that disrupt the workplace
Coach and encourage individuals in a way that fosters pride in work, accountability, and ownership
Provide meaningful appreciation that makes people want to give their all
This session is presented in a fun and informative way, Liz demonstrates each concept with tools from her own personal tool bag that will surprise and entertain the audience.
Audience: Leaders
---
Liz Uram is proud to have worked with the following organizations:
Unity Hospice
HFMA MN Women's Leadership Conference
Wausau Regional Chamber of Commerce
Allina
Project Management Institute CMASS
Project Management Institute MN
Associations North Fall Leadership Conference
HR Florida Conference & Expo
MN-AEYC/MN-SACA Summer Leadership Institute
Institute of Management Accountants Northern Lights
American Family Insurance
AdvisorNet Financial
CFA Society of Minnesota
Midwest Family Mutual Insurance
Community Dental Care
YMCA
Family Pathways
Twin Cities Human Resources Association
Salon & Spa Professional Association
Minnesota Association for Marriage and Family Therapy
American Massage Therapy Association
The Refine Conference
Executive Women International
International Coach Federation
National Association of Professional Organizers