The latest issue of Precast, Inc. magazine features an article on how to help first-time managers succeed and thrive. In the article, I share that clarity of responsibilities can help curb the 50-60% failure rate of first-time managers.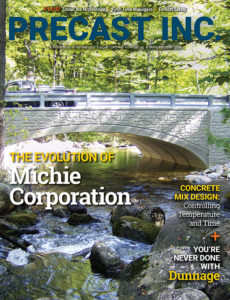 Failure doesn't necessarily mean that the new manager couldn't do the job, it could be that they choose not to do the job. Unclear expectations may lead to a first-time manager' decision to step back into an individual contributor role.
In addition to knowledge of job expectations, there are 8 basic competencies first-time managers need to develop to be successful:
Communication skills
Emotional Intelligence
Generational savvy
Meeting management
Change management
A manager who doesn't develop 'The Basic 8' management competencies will struggle with gaining trust, with being viewed as credible, and are likely to experience high stress which can ultimately lead to the 50-60% failure rate.  What can organizations do to set a first-time manager up for success?
Training Leads to Loyalty
The only thing worse than training employees and losing them is not training them and keeping them. – Zig Ziglar
The Precast, Inc. article references a shocking statistic from Careerbuilder.com that states only 58% of managers ever receive any management skills training. While that number is shocking, those in the workplace might find that percent a little generous.
What do they need to be trained on? The Basic 8. Making the transition from employee to first-time manager requires an entirely different skillset than what was needed to perform the daily tasks of an individual contributor. Going from doing the work to directing the work requires a major up-level in communication skills.
There is a direct connection between providing training opportunities and employee loyalty. Not only that, there is a direct correlation between loyalty and increased productivity.
Organizations that don't provide training for their first-time managers risk not only setting the new managers up for failure but the people they're in charge of too. A Gallup survey revealed that 75% of employees don't leave their job, they leave their manager. That number can be reduced dramatically when managers are given the opportunity to develop The Basic 8 management competencies identified above.
Give the Gift of Feedback
Over-estimating one's leadership abilities may be one factor that leads to failure. A key to setting people up for success is helping them become aware of their strengths and weaknesses and equipping them to capitalize on their strengths and learn how to compensate for their weaknesses. Many first-time managers have no idea the depth and variety of skill required to be effective. At first, they may think being a manager is all about giving orders and telling people what to do. Without guidance they don't realize that getting people to want to do what you want them to do is a much better approach.
As mentioned above, clear expectations are critically important. Clearly defined responsibilities are the foundation of quality feedback focused on development. It's up to the manager of the first-time manager to give the gift of feedback. Use the C.O.R.E. Feedback Formula to give feedback that is received as a gift, not as criticism. The C.O.R.E. Feedback Formula takes the stress, conflict, and procrastination out of giving feedback.
Equip Managers for Success
Successful managers have a toolkit full of tools they can use to be more efficient, increase productivity, and improve quality. Equip first-time managers with the resources they need to continue their development. Tools include additional deep-dive training on specific topics, books, and guides they can use to stay on top of their responsibilities.
With today's record-low unemployment rates, managers in every type of industry are struggling to find candidates to fill open positions. To make matters worse, when one employee leaves to go to another job under a better manager they recruit their co-workers to come with them. Spending a little time and money to set first-time managers up for success is an investment that has a huge payoff. The return comes in the form of lower employee turnover, improved productivity, and increased efficiencies.
If your organization doesn't currently have a plan for onboarding first-time managers, contact me to discuss options that would best fit your needs.
Liz Uram helps leaders improve bottom-line results through clear communication, Request a free guide to conflict-free employee feedback here.
Are First-Time Managers Set Up to Fail?