The biggest burning issues and sources of conflict in the workplace have little to do with the actual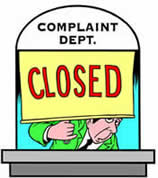 work people are getting paid for.  Way too much time is spent in the workplace nit-picking about what is acceptable and unacceptable in terms of personal habits.  That's not exactly a surprise since the workplace is a melting pot of personalities, beliefs, cultures, and generations.
The issues many managers are deluged with  are concerns about how loud people are chewing their food, the smell of the food people are eating, where people are eating their food, how much perfume/cologne people are wearing, whether so and so is spending too much time on personal calls, etc., etc.  The list could go on ad infinitum.
All these little gripes cause untold lost productivity.   People are dying to know how to handle the offensive people they work with, or better yet want their manager to handle it.  Everyone wants the magic words to figure out how to get other people to stop doing what they find offensive.
Hmmm.  I wonder if maybe we need to stop and check ourselves.  Who is to say that we aren't doing things that annoy other people as well?  Are you prepared to hear about your own idiosyncrasies?  A little tolerance for others can go a long way.
Before launching into a campaign to fix other people and make them conform to your acceptable standards, ask yourself these questions:
Am I making too big a deal of this?
Has someone appointed me judge?
Does something need to be said?
Does it need to be said right now?
Does it need to be said by me?
If, after thoughtful review of these questions you decide that something absolutely must be said, go for it.  Just be prepared to hear about the annoying things you are doing that are bothering your co-workers.  Fair is fair after all.
5 Questions To Reduce Workplace Conflict